WARNING!



>w> this is basically more of a warning for what you may be able to see in my gallery.
I like animoooooooo. So if you have a problem with any of these please kindly grab your things and leave. I won't be always uploading things like that but when I do just stay calm and don't complain >w> thank you.



Also, if anyone asks, I won't be making any more Sonic art. So if you watched me for that then I apologize.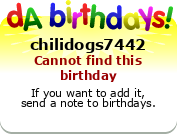 --> ask me in a note please .w."

--> "Chilidogs7442"

(fanfic account)--> www.wattpad.com/user/Chilidogs…

--> steamcommunity.com/profiles/76…

--> chilidogs7442.tumblr.com/ (this is my personal blog, where I repost stuff)

--> chilidogs7442-artblog.tumblr.c… (and this is my art blog that is, obviously, for my art. It's new so art will be posted later on.)

--> www.youtube.com/user/Chilidogs…